Careers Information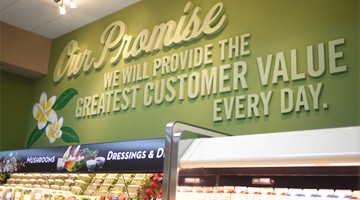 Careers
At Pay-Less, our employees are our most valuable assets to our company. We believe in building valued and impassioned employees through customer service and department trainings, and employee development programs.
Interested in joining the Pay-Less familia today? We are currently accepting applications to establish a list of qualified applicants for the following positions:
- Accounting Clerk
- Baggers
- Cashiers
- Head Cashiers
- Variety Stockers
- Grocery Stockers
- Freeze and Chill Stockers
- Produce Attendants
- Meat Merchandisers
- Meat Attendants
- Meat Cutters
- Floral Helpers
- Floral Designers
- Floral Drivers
- Pharmacy Technicians
- Warehouse Receivers
- Warehouse Person/Driver
Benefits
- Medical Insurance
- Dental Insurance
- Company - Life
- Universal Life
- Aflac
- 401k Retirement Program with Employer Matching
- Mobil fuel discount per gallon
- Employee store & pharmacy discounts - tiered by tenure
General Requirements
- Good interpersonal skills, written & oral communication skills
- Team oriented & able to work flexible hours
- Quick learner and able to multi-task
- Dependable
- A valid health certificate
- AB Chauffeurs license (applicable to warehouse driver positions)
- ABC License (applicable to cashiers)
How to apply:
Interested applicants may visit our Pay-Less Markets Corporate Office Human Resources Dept. at 116 W Chalan Santo Papa Ste 103, Hagatna, Guam (across Calvo's Insurance) from Monday - Friday (8am - 5pm). Pay-Less Markets Inc. is a DRUG-FREE WORKPLACE & AN EQUAL OPPORTUNITY EMPLOYER.
Download Employment Application Form
Apply today