Homemade for the Holidays
Happy Thanksgiving! Join us for a cornucopia of healthy eduKitchen demos including a special class led by Fu'una Cultures and Holistic Nutritionist Grace VanBerkum, SNAP-ED cooking demos and tours, and a romantic date night out in the eduKitchen! We are excited to help you make it a healthy Homemade for the Holidays!
Learn More
Featured Stories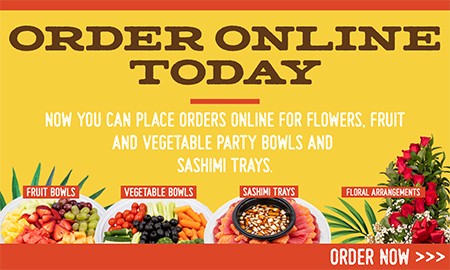 Online ordering is here!
Pay-Less wants to make planning for parties and gatherings efficient and convenient! Now you can place orders online for our Floral Shoppe, Fruit and Vegetable Party Bowls and Sashimi Trays. Orders must be placed at least 48 hours in advance. If ordering for same day delivery or pick up, please call any of our Pay-Less locations for assistance. Delivery is only available for Floral Shoppe to residential and businesses. Order fulfillment is based on availability of inventory at the time of order placement. Items may not be as exactly shown.
Chagi | Pumpkin Latiya
Add a twist of fall to this local treat.
Ingredients:
- Sponge or pound cake
- 1 cup Carnation milk
- 1 cup Sweetened condensed milk
- 1 1/2 cup Pure pumpkin
- 1 tbsp. Pumpkin spice
- 1/2 tbsp. Cinnamon
- 2 tbsp. Cornstarch
Community Events
October 04

Pay-Less O.N.E. eduKitchen - Health Smart Demo: "Plant-Based Protein"

Location: Pay-Less O.N.E.

Time: 6:00PM-7:30PM

(Ages 12 and over)

October 12

Pay-Less O.N.E. eduKitchen: "Chef Series Demo: Cooking from the Sea"

Location: Pay-Less O.N.E.

Time: 6:00PM-7:30PM

There are so many types of seafood and so many ways to enjoy them. Join eduKitchen Chef James and learn how to get the most flavor out of your favorite foods from real sea! (Ages 12 and over)

October 18

Pay-Less Maite eduKitchen: "Health Smart Demo: Plant-Based Protein"

Location: Pay-Less Maite eduKitchen

Time: 6:00PM-7:30PM

October is Vegetarian Awareness Month! Celebrate with us in the eduKitchen by learning the benefits of plant-based meals and explore a variety of meat-free options for you and your family! Meatless meals can be easy and delicious to add into lifestyle. (Ages 12 and over)

October 19

Pay-Less O.N.E. eduKitchen: "Healthy Heroes Workshop: Halloween Treats"

Location: Pay-Less O.N.E.

Time: 10:30AM-12:00PM

Halloween treats are so much more enjoyable when they're made by you. Calling all Healthy Heroes to create DIY treats to add to your Halloween fun! (Ages 7 and over)

November 02

FU'UNA CULTURES Local Vibrant Food 101: EAT TO LIVE!

Location: Maite

Time: 10:30AM-12:00PM

Jenny Chargualaf Coffman , owner of Fu'una Cultures, presents Local Vibrant Food 101. Learn the how's and why's of plant-based cuisine and holistic healthcare through food choices.

November 08

Pay-Less O.N.E. eduKitchen: "Ketogenic Diet"

Location: Pay-Less O.N.E. eduKitchen

Time: 6:00PM-7:30PM

The Ketogenic diet is all the rage! Learn the science behind this diet and the must-have Keto pantry staples. Try 3 delicious recipes approved by our very own registered dietitian.

(Ages 16 and over)

November 09

Pay-Less O.N.E. eduKitchen: "Healthy Heroes Workshop: Thanksgiving Treats"

Location: Pay-Less O.N.E. eduKitchen

Time: 10:30AM-12:00PM

Gather around the eduKitchen table as Chef James teaches our Healthy Heroes the necessary cooking skills needed to prepare kid-approved Thanksgiving treats!

(Ages 7 and over)

November 16

Pay-Less O.N.E. eduKitchen: "Vegan Cooking"

Location: Pay-Less O.N.E. eduKitchen

Time: 6:00PM-7:30PM

Make it a healthy homemade for the holidays! Chef James teaches you some healthy plant-based recipes that will be the new favorite dishes at your Thanksgiving gatherings.

(Ages 16 and over)

November 22

Pay-Less Maite eduKitchen: "Ketogenic Diet"

Location: Pay-Less Maite eduKitchen

Time: 6:00PM-7:30PM

Slots Available: 0

The Ketogenic diet is all the rage! Learn the science behind this diet and the must-have Keto pantry staples. Try 3 delicious recipes approved by our very own registered dietitian.

(Ages 16 and over)

November 23

Pay-Less Maite eduKitchen: "Healthy Heroes Workshop: Thanksgiving Treats"

Location: Pay-Less Maite eduKitchen

Time: 10:30AM-12:00PM

Slots Available: 0

Gather around the eduKitchen table as Chef James teaches our Healthy Heroes the necessary cooking skills needed to prepare kid-approved Thanksgiving treats!

(Ages 7 and over)

November 30

Maite Pay-Less eduKitchen: "Vegan Date Night"

Location: Maite Pay-Less eduKitchen

Time: 6:00PM-8:00PM

Fee: $75.00

Slots Available: 0

Our eduKitchen chef will take you and your special someone on a journey to explore delicious vegan recipes. This healthy three-course meal will not only leave your belly full, but your mind filled with ideas for recipes you can share at home. Wine, dine, and relax for a date night to remember!

$75/couple

(Ages 21 and over)