Let's Celebrate Moms & Grads!
There's so much to celebrate this month!
Join Pay-Less all month long as we celebrate. Make healthy recipes for National Osteoporosis month, have mom enjoy a night with a 3-course meal and wine pairing, learn to make floral and edible leis for the graduate in your life, and pop in at the stores for a Community Corner. Biba Ha'ånen Nåna and congratulations to all the 2019 graduates!
Learn More
Featured Stories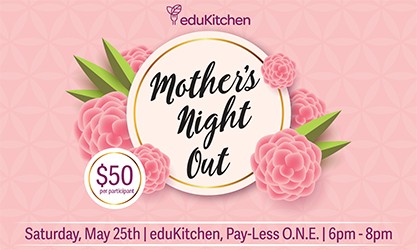 Mother's Night out!
Biba Ha'ånen Nåna! Treat your mom to a one of a kind gift that she will love! This mom's night our in the eduKitchen will have great giveaways, a 3-course meal and wine pairings. Sign up in our community events below!
More details
Floral Shoppe | Flowers for Mom
Stop by the pay-Less Floral Shoppe and get some flowers for mom. Follow these steps to learn how to keep flowers fresh. Learn more about our Floral Shoppe
Community Events
May 17

Pay-Less eduKitchen: "Health Smart Demo: Bone-Building Food"

Location: Pay-Less eduKitchen

Time: 6:00PM-7:30PM

In honor of National Osteoporosis month, join our Supermarket Dietitian, Rosae, in exploring recipes to help your bones strong. (Ages 12 and over)

May 18

Pay-Less eduKitchen: "Healthy Heroes Workshop: Cutie Pies"

Location: Pay-Less eduKitchen

Time: 10:30AM-12:00PM

Have your little cutie pies join eduKitchen Chef James in learning to create healthy, homemade friut pies. (Ages 7 and over)

May 25

Pay-Less eduKitchen: "eduKitchen Demo: Mother's Night Out"

Location: Pay-Less eduKitchen

Time: 6:00PM-8:00PM

Fee: $50.00

Biba Ha'ånen Nåna! Treat your mom to a one of a kind gift that she will love! This mom's night our in the eduKitchen will have great giveaways, a 3-course meal and wine pairings. ($50 per mom. Must be 21 years or older attend. Refunds are not accepted.)

May 30

Pay-Less eduKitchen: "eduKitchen Demo: Chef Series: Graduate DIY Leis"

Location: Pay-Less eduKitchen

Time: 6:00PM-7:30PM

Slots Available: 9

In this hand-on demo, learn to create fun floral lei with the Pay-Less Floral Shoppe that will include edible treats made by eduKitchen Chef James. It's the perfect gift for your special graduate. (Ages 12 and over)