Be Sweet to Your Heart
In honor of American Heart Month, we want to educate and encourage heart healthy habits for you and your family. Join us for cooking demos, Healthy Heroes workshops and store tours to learn more. Also, bring your special someone for a Valentine's Date Night in the eduKitchen that they will never forget! Sen guaiya hamyo from your Pay-Less family.
Learn More
Featured Stories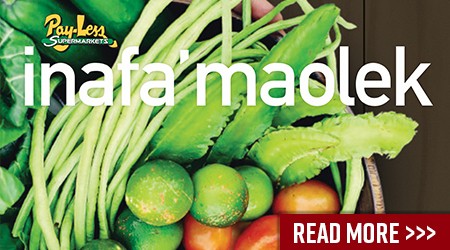 Inafa'maolek
The phrase Inafa'maolek (pronounced e-na-fah-mao-lek)
Describes the chamoru concept of restoring harmony or order. The literal translation is 'to make' (inafa') 'good' (maolek)

Pay-Less Markets is truly a local institution rooted in Guam for over 70 years, with a promise to provide the greatest customer value every single day. Value is reflected in the way we treat our customers, employees, and our island.
Chagi | Shrimp & Tomato Cream Pasta
Skip the lines this Valentine's Day and enjoy this restaurant style dish from the comfort of your home.
Community Events
February 07

Pay-Less O.N.E. eduKitchen: "Health Smart Demo: Avocado, Coconut, & Heart Health"

Location: Pay-Less O.N.E. eduKitchen

Time: 6:00PM-7:30PM

February is American Heart Month, a national campaign to fight against heart disease and stroke. In this food demo, our dietitian will explore different types of fat and their effects on heart health. Chagi and take home heart healthy recipes the whole family can enjoy. (Ages 12 and over)

February 08

Pay-Less O.N.E. eduKitchen: "Healthy Heroes Workshop: Breakfast in Red"

Location: Pay-Less O.N.E. eduKitchen

Time: 10:30AM-12:00PM

Healthy Heroes can celebrate American Heart Month by going red! In this workshop, kids will create heart-healthy breakfasts colored with red fruit. Dress in red to make a stand for heart health. (Ages 7 - 12)

February 15

Pay-Less Maite eduKitchen: "Kusinan Dos Amantes Date Night in the eduKitchen"

Location: Maite Pay-Less eduKitchen

Time: 6:00PM-8:00PM

Fee: $75.00

Enjoy a romantic night in the kitchen with your partner. Learn, create, and share chef-crafted recipes in celebration of love. Wine provided by Ambros Inc.

(Age: 21+)

Fee: $75/couple

February 21

Maite eduKitchen: "Health Smart Demo: Avocado, Coconut, & Heart Health"

Location: Pay-Less Maite eduKitchen

Time: 6:00PM-7:30PM

Slots Available: 2

February is American Heart Month, a national campaign to fight against heart disease and stroke. In this food demo, our dietitian will explore different types of fat and their effects on heart health. Chagi and take home heart healthy recipes the whole family can enjoy (Ages 12 and over)

February 22

Maite eduKitchen: "Healthy Heroes Workshop: Breakfast in Red"

Location: Pay-Less Maite eduKitchen

Time: 10:30AM-12:00PM

Slots Available: 0

Healthy Heroes can celebrate American Heart Month by going red! In this workshop, kids will create heart-healthy breakfasts colored with red fruit. Dress in red to make a stand for heart health. (Ages 7 - 12)

February 28

Maite eduKitchen: "Chef Series: Salt-Free Cooking"

Location: Pay-Less Maite eduKitchen

Time: 6:00PM-7:30PM

Slots Available: 0

Skip the salt! Eating less sodium helps protect against high blood pressure, heart disease, and stroke. In this food demo, our Chef will introduce you to salt-free dishes without sacrificing flavor. (Ages 12 and over)