Biba Mes CHamoru
Biba Mes CHamoru and National Nutrition Month! Nahi ta hånao (come along with us) into each of our stores for Mes CHamoru activities all throughout the month. In addition, all ages are welcom in our kitchen as we cook up some månngé local favorites with nutrition in mind.
Learn More
Featured Stories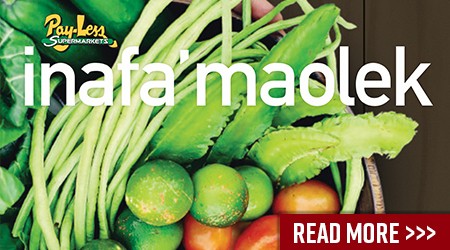 Inafa'maolek
The phrase Inafa'maolek (pronounced e-na-fah-mao-lek)
Describes the chamoru concept of restoring harmony or order. The literal translation is 'to make' (inafa') 'good' (maolek)

Pay-Less Markets is truly a local institution rooted in Guam for over 70 years, with a promise to provide the greatest customer value every single day. Value is reflected in the way we treat our customers, employees, and our island.
Chagi | Shrimp & Tomato Cream Pasta
Skip the lines this Valentine's Day and enjoy this restaurant style dish from the comfort of your home.
Community Events
March 07

Pay-Less O.N.E. eduKitchen: "Healthy Heroes Workshop: "Picasso Nenis""

Location: Pay-Less O.N.E. eduKitchen

Time: 10:30AM-12:00PM

Slots Available: 13

Let's spruce up the kitchen with Picasso Nenis! Our Healthy Heroes will create unique kitchenware to bring home and learn a new after school snack recipe during the next workshop, so gear up and don't miss it.

(Ages 7 - 12)

March 07

Pay-Less O.N.E. eduKitchen: "Chef Series: Cooking with Tofu"

Location: Pay-Less O.N.E. eduKitchen

Time: 6:00PM-7:30PM

Slots Available: 12

Tofu is a versatile food rich in protein and many other nutrients! Join eduKitchen Chef James and learn how to work tofu into your repertoire for meat-free, nutritious meals this Lenten season!

(Ages 12+)

March 13

Pay-Less O.N.E. eduKitchen: "Health Smart Demo: Comfort Food Swaps"

Location: Pay-Less O.N.E. eduKitchen

Time: 6:00PM-7:30PM

Slots Available: 12

Maila ta fan Boka! We invite you into our kitchen as we cook up some of our favorite traditional CHamoru and Pacific Islands foos with a Health Smart Twist!

(Ages 12+)

March 20

Maite eduKitchen: "Community Spotlight: Nana's Treats with Adrian Diaz"

Location: Maite eduKitchen

Time: 6:00PM-7:30PM

Slots Available: 13

Keeping tradition alive, Adrian Diaz shares family recipes passed down by her Nana. Learn, create, and enjoy månngé treats to share with your loved ones.

(Ages 12+)

March 27

Maite eduKitchen: "Chef Series: Cooking with Tofu"

Location: Maite eduKitchen

Time: 6:00PM-7:30PM

Slots Available: 13

Tofu is a versatile food rich in protein and many other nutrients! Join eduKitchen Chef James and learn how to work tofu into your repertoire for meat-free, nutritious meals this Lenten season!

(Ages 12+)

March 28

Maite eduKitchen: "Healthy Heroes Workshop: "Picasso Nenis""

Location: Maite eduKitchen

Time: 10:30AM-12:00PM

Slots Available: 5

Let's spruce up the kitchen with Picasso Nenis! Our Healthy Heroes will create unique kitchenware to bring home and learn a new after school snack recipe during the next workshop, so gear up and don't miss it.

(Ages 7 - 12)