Biba Earth Month
Celebrate Earth Month with Pay-Less!
Embedded in our mission statement is to "care for our community". In honor of Earth Month, Pay-Less has many events and activities that help to protect and preserve Guam's natural resources. Join us all month long!
Learn More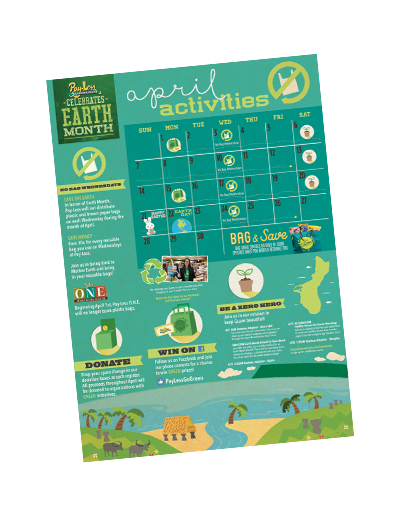 Featured Stories
Earth month
In honor of Earth month, Pay-Less will not distribute plastic bags and brown paper bags on each Wednesday during the month of April
More details
Go Green Guam
This Earth Month, throughout the month of April, we challenge you, Guam, to use a reusable bag when shopping at your friendly Pay-Less store.
Community Events
April 13

Pay-Less eduKitchen: "Healthy Heroes Kids Workshop: Go Green with Green Banana Paper"

Location: Pay-Less eduKitchen

Time: 10:30AM-12:00PM

Kosrae is coming to the Pay-Less eduKitchen to teach our Healthy Heroes how to make paper from the trongkon aga' (banana tree). (Ages 7 and over)

April 13

Pay-Less eduKitchen: "eduKitchen Demo: Chef Series: Spring Cooking"

Location: Pay-Less eduKitchen

Time: 6:00PM-7:30PM

Join eduKitchen Chef James in cooking and tasting the månnge' flavors of the Spring season. (Ages 12 and over)

April 25

Pay-Less eduKitchen: "eduKitchen Demo: Chef Series: Spring Cooking"

Location: Pay-Less eduKitchen

Time: 6:00PM-7:30PM

Slots Available: 0

Join eduKitchen Chef James in cooking and tasting the månnge' flavors of the Spring season. (Ages 12 and over)