Homemade for the Holidays
It's Homemade for the Holidays at Pay-Less Supermarkets this month. Learn how to incorporate winter squash into your holiday celebrations with our eduKitchen Chef and healthy ways to cook and shop with UOG's SNAP-Ed team. Sign up the kids for some holiday activities with our Gingerbread Christmas Camp where they'll learn about treats with our registered dietition Rosae, make zero waste crafts with Picasso Nenis, take part in a Gingerbread Bake-off & stay active with our 12 Days of Fitness!
Learn More
Featured Stories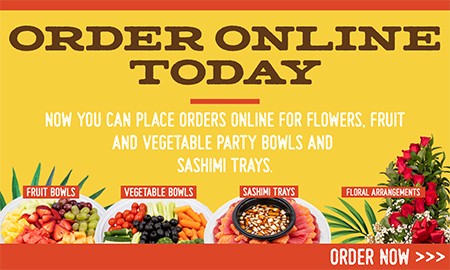 Online ordering is here!
Pay-Less wants to make planning for parties and gatherings efficient and convenient! Now you can place orders online for our Floral Shoppe, Fruit and Vegetable Party Bowls and Sashimi Trays. Orders must be placed at least 48 hours in advance. If ordering for same day delivery or pick up, please call any of our Pay-Less locations for assistance. Delivery is only available for Floral Shoppe to residential and businesses. Order fulfillment is based on availability of inventory at the time of order placement. Items may not be as exactly shown.
Chagi | Pumpkin Pie Cupcakes
Sweeten up your feast
Ingredients:
2/3 cup Flour; 1/4 tsp. Baking powder; 1/4 tsp. Baking soda; 1/4 tsp. Salt; 2 tsp. Pumpkin pie spice; 2 cups Pumpkin puree; 3/4 cup Sugar; 2 Eggs, large; 3/4 cup Evaporated milk; 1 tsp. Vanilla extract; Whipped cream, to taste for topping; Cinnamon or Pumpkin pie spice, to taste for tapping (optional)
Community Events
December 06

Pay-Less O.N.E. eduKitchen: "Winter Squash for the Holidays"

Location: Pay-Less O.N.E. eduKitchen

Time: 6:00PM-7:30PM

Explore different varieties of winter squash, perfect for the holiday season. Our eduKitchen chef will give expert tips on how to select, store, prepare, and incorporate into your Christmas menu.

(Ages 12 and over)

December 21

Pay-Less Maite eduKitchen: "Winter Squash for the Holidays"

Location: Pay-Less Maite eduKitchen

Time: 6:00PM-7:30PM

Slots Available: 6

Explore different varieties of winter squash, perfect for the holiday season. Our eduKitchen chef will give expert tips on how to select, store, prepare, and incorporate into your Christmas menu.

(Ages 12 and over)

December 23

Pay-Less Maite eduKitchen: "Gingerbread Christmas Camp"

Location: Pay-Less Maite eduKitchen

Time: 8:00AM-12:00PM

Fee: $40.00

Slots Available: 0

School's out and camp is back in session at the eduKitchen! Bring your Healthy Heroes for a morning of fitness, zero waste arts & crafts, and yummy food creations.

(Ages 7-12 )