Trick or Treat!
Happy Healthy Halloween! Get pumped this month with workshops filled with recipes for meals and treats that will keep you happy and healthy. We are excited to get you and your family in our classes as we expand and open up our Maite eduKitchen!
Learn More
Featured Stories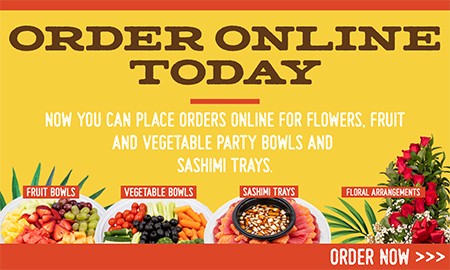 Online ordering is here!
Pay-Less wants to make planning for parties and gatherings efficient and convenient! Now you can place orders online for our Floral Shoppe, Fruit and Vegetable Party Bowls and Sashimi Trays. Orders must be placed at least 48 hours in advance. If ordering for same day delivery or pick up, please call any of our Pay-Less locations for assistance. Delivery is only available for Floral Shoppe to residential and businesses. Order fulfillment is based on availability of inventory at the time of order placement. Items may not be as exactly shown.
Chagi | Pumpkin Latiya
Add a twist of fall to this local treat.
Ingredients:
- Sponge or pound cake
- 1 cup Carnation milk
- 1 cup Sweetened condensed milk
- 1 1/2 cup Pure pumpkin
- 1 tbsp. Pumpkin spice
- 1/2 tbsp. Cinnamon
- 2 tbsp. Cornstarch
Community Events
October 04

Pay-Less O.N.E. eduKitchen - Health Smart Demo: "Plant-Based Protein"

Location: Pay-Less O.N.E.

Time: 6:00PM-7:30PM

(Ages 12 and over)

October 12

Pay-Less O.N.E. eduKitchen: "Chef Series Demo: Cooking from the Sea"

Location: Pay-Less O.N.E.

Time: 6:00PM-7:30PM

There are so many types of seafood and so many ways to enjoy them. Join eduKitchen Chef James and learn how to get the most flavor out of your favorite foods from real sea! (Ages 12 and over)

October 18

Pay-Less Maite eduKitchen: "Health Smart Demo: Plant-Based Protein"

Location: Pay-Less Maite eduKitchen

Time: 6:00PM-7:30PM

October is Vegetarian Awareness Month! Celebrate with us in the eduKitchen by learning the benefits of plant-based meals and explore a variety of meat-free options for you and your family! Meatless meals can be easy and delicious to add into lifestyle. (Ages 12 and over)

October 19

Pay-Less O.N.E. eduKitchen: "Healthy Heroes Workshop: Halloween Treats"

Location: Pay-Less O.N.E.

Time: 10:30AM-12:00PM

Halloween treats are so much more enjoyable when they're made by you. Calling all Healthy Heroes to create DIY treats to add to your Halloween fun! (Ages 7 and over)