Kick-Off to Healthy Resolutions
This year marks our 70th Anniversary, and we want to start the celebration with some exciting Health Smart and eduKitchen activities! Join us for cooking demos, a store tour, Healthy Heroes treasure hunts, and our annual KTF 5K/10K on January 25th. Here's to a healthier, happier community all year round!
Learn More
Featured Stories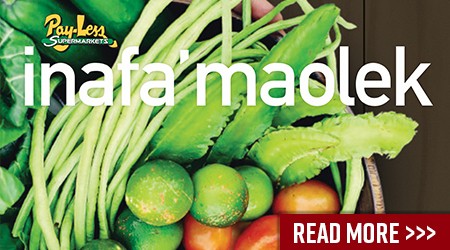 Inafa'maolek
The phrase Inafa'maolek (pronounced e-na-fah-mao-lek)
Describes the chamoru concept of restoring harmony or order. The literal translation is 'to make' (inafa') 'good' (maolek)

Pay-Less Markets is truly a local institution rooted in Guam for over 70 years, with a promise to provide the greatest customer value every single day. Value is reflected in the way we treat our customers, employees, and our island.
Kick The Fat 2020
Lace up your kicks for the 2020 Kick The Fat 5k/10K Run/Walk!
Community Events
January 04

Pay-Less O.N.E. eduKitchen: "Chef Series: Cooking with local starches"

Location: Pay-Less O.N.E. eduKitchen

Time: 6:00PM-7:30PM

Sharpen your culinary skills during hands-on cooking demonstrations led by eduKitchen Chef. Enjoy a night out and experience the art of food with each unique class, whether you are new to the kitchen or just love to experiment and learn. (Ages 12 and over)

January 10

Pay-Less O.N.E. eduKitchen: "Health Smart: Healthy CHamorro Cooking"

Location: Pay-Less O.N.E. eduKitchen

Time: 6:00PM-7:30PM

Learn nutritional benefits and cooking tips during a hands-on demonstration led by our Supermarket Dietitian. Engage in the conversation while learning fun, practical ways to incorporate healthy chamorro cooking in your everyday life. (Ages 12 and over)

January 17

Maite Pay-Less eduKitchen: "Health Smart: Healthy CHamorro Cooking"

Location: Maite Pay-Less eduKitchen

Time: 6:00PM-7:30PM

Learn nutritional benefits and cooking tips during a hands-on demonstration led by our Supermarket Dietitian. Engage in the conversation while learning fun, practical ways to incorporate healthy chamorro cooking in your everyday life. (Ages 12 and over)

January 18

Maite Pay-Less eduKitchen: "Chef Series: Cooking with local starches"

Location: Maite Pay-Less eduKitchen

Time: 6:00PM-7:30PM

Sharpen your culinary skills during hands-on cooking demonstrations led by eduKitchen Chef. Enjoy a night out and experience the art of food with each unique class, whether you are new to the kitchen or just love to experiment and learn. (Ages 12 and over)

February 15

Pay-Less Maite eduKitchen: "Kusinan Dos Amantes Date Night in the eduKitchen"

Location: Maite Pay-Less eduKitchen

Time: 6:00PM-8:00PM

Fee: $75.00

Slots Available: 4

Enjoy a romantic night in the kitchen with your partner. Learn, create, and share chef-crafted recipes in celebration of love. Wine provided by Ambros Inc.

(Age: 21+)

Fee: $75/couple