Fall into Flavor
Now that school is back in session, it's time to Fall into Flavor with our Mediterranean Night in the eduKitchen for couples 21-years and over. Don't forget to sign up for our workshops to learn healthier alternatives to sugar and rice. To top it off, our Healthy Heroes workshops are back! This month, Go Green with Pay-Less!
Learn More
Featured Stories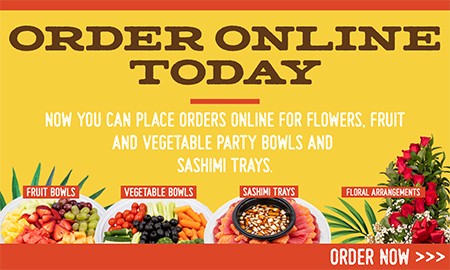 Online ordering is here!
Pay-Less wants to make planning for parties and gatherings efficient and convenient! Now you can place orders online for our Floral Shoppe, Fruit and Vegetable Party Bowls and Sashimi Trays. Orders must be placed at least 48 hours in advance. If ordering for same day delivery or pick up, please call any of our Pay-Less locations for assistance. Delivery is only available for Floral Shoppe to residential and businesses. Order fulfillment is based on availability of inventory at the time of order placement. Items may not be as exactly shown.
Chagi | Grilled Cheese Three Ways
Pepperoni Pizza | Spinach Dip | Broccoli Cheddar
Community Events
September 06

Pay-Less eduKitchen - Health Smart Demo: "Sugar 101"

Location: Pay-Less eduKitchen

Time: 6:00PM-7:30PM

Do you know how much sugar you're taking in? ever wonder how the body processes sugar? Join our Supermarket Dietitian for a lesson on different sources of sugar and healthier alternatives to satisfy your sweet tooth. (Ages 12 and over)

September 07

Mediterranean Night in the eduKitchen ($75 per couple)

Location: Pay-Less O.N.E

Time: 6:00PM-8:00PM

Fee: $75.00

Enjoy a night of cooking and dining with our eduKitchen Chef as he takes you through the flavors of the Mediterranean region. (Ages 21 and over)

September 19

Pay-Less eduKitchen - eduKitchen Demo: "Chef Series: Working with Grains"

Location: Pay-Less eduKitchen

Time: 6:00PM-7:30PM

Slots Available: 0

Grains are an essential part of our human diet as it gives us that daily dose of energy we need to get through our day. Join Chef James in the eduKitchen and explore different types of grains that you can soon add to your repertoire of meals. (Ages 12 and over)

September 28

Pay-Less eduKitchen - eduKitchen Demo: "Healthy Heroes Workshop: Go Green with Vegan Educators of Guam (V.E.G.)"

Location: Pay-Less eduKitchen

Time: 10:30AM-12:00PM

Slots Available: 0

Did you know plant-based food are good for the environment? Learn how while creating raw cookie balls! Give this plant-based treat a try in our eduKitchen with V.E.G. (Ages 7 and over)

October 04

Pay-Less O.N.E. eduKitchen - Health Smart Demo: "Plant-Based Protein"

Location: Pay-Less O.N.E.

Time: 6:00PM-7:30PM

Slots Available: 12

(Ages 12 and over)