BACK TO SCHOOL!
"Back to school" is an exciting promotion that focuses on our youth. The promotion brings together two of our current programs: Health Smart and Mission: Zero Bags (MOB) Kids. Our "Back to School" Promotion aims to educate and encourage "Green" and healthy habits in our youth by promoting physical and environmental sustainability."
Learn More
Featured Stories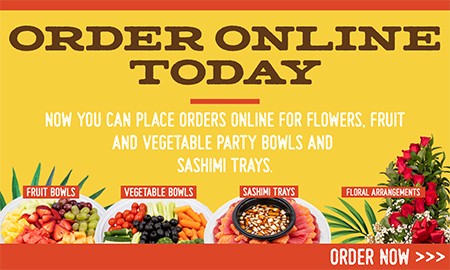 Online ordering is here!
Pay-Less wants to make planning for parties and gatherings efficient and convenient! Now you can place orders online for our Floral Shoppe, Fruit and Vegetable Party Bowls and Sashimi Trays. Orders must be placed at least 48 hours in advance. If ordering for same day delivery or pick up, please call any of our Pay-Less locations for assistance. Delivery is only available for Floral Shoppe to residential and businesses. Order fulfillment is based on availability of inventory at the time of order placement. Items may not be as exactly shown.
Chagi | Grilled Cheese Three Ways
Pepperoni Pizza | Spinach Dip | Broccoli Cheddar
Community Events
August 01

SNAP-Ed Planning Nutrition Education Workshop

Location: Oka Pay-Less

Time: 11:00AM-12:00PM

Supplement Nutrition Assistance Program Education

Join the UOG SNAP-Ed team for a cooking demonstration featuring healthy versions of local recipes using your favorite local fruits and veggies.

(For ages 12 and Up)

August 08

SNAP-Ed Shopping Nutrition Education Workshop

Location: Oka Pay-Less

Time: 11:00AM-12:00PM

Supplement Nutrition Assistance Program Education

Join the UOG SNAP-Ed team for a cooking demonstration featuring healthy versions of local recipes using your favorite local fruits and veggies.

(For ages 12 and Up)

August 15

SNAP-Ed Saving Nutrition Education Workshop

Location: Oka Pay-Less

Time: 11:00AM-12:00PM

Supplement Nutrition Assistance Program Education

Join the UOG SNAP-Ed team for a cooking demonstration featuring healthy versions of local recipes using your favorite local fruits and veggies.

(For ages 12 and Up)

August 16

Chef Series: Flour 101

Location: Pay-Less eduKitchen

Time: 6:00PM-7:30PM

eduKitchen Demo

If you are looking to improve your baking skills and knowledge, this class is just for you! Chef James teaches you about the different types of flour and how to use them. (Ages 12 and over)

August 17

Health Smart Healthy Heroes Workshop: Back to School Fuel

Location: Pay-Less eduKitchen

Time: 10:30AM-12:00PM

Health Smart Demo

Healthy Heroes are busy bees being back to school, but breakfast is still the most important meal of the day! Join eduKitchen Chef James and Supermarket Dietitian Rosae in learning to create quick, easy and healthy meals for breakfast.

(Ages 7 and over)

August 22

SNAP-Ed Cooking Nutrition Education Workshop

Location: Oka Pay-Less

Time: 11:00AM-12:00PM

Supplement Nutrition Assistance Program Education

Join the UOG SNAP-Ed team for a cooking demonstration featuring healthy versions of local recipes using your favorite local fruits and veggies.

(For ages 12 and Up)

September 07

Mediterranean Night in the eduKitchen ($75 per couple)

Location: Pay-Less O.N.E

Time: 6:00PM-8:00PM

Fee: $75.00

Slots Available: 0

Enjoy a night of cooking and dining with our eduKitchen Chef as he takes you through the flavors of the Mediterranean region. (Ages 21 and over)