Summer is in Session!
Chagi, Shop & Save!
Join Pay-Less all month long as we cannon ball into savings and savory dishes! Take a tour of our Chagi Fest featured at all 8 store locations over 8 weeks! On Saturdays and Sundays from 10am-2pm, we will be offering samples of our favorite Summer treats! Sign your kids up for a week full of Health, fitness and sustainable actives with our Healthy Heroes Summer Program and we can't forget about the father's in our lives, we have a special eduKitchen class just for them! Biba Ha'ånen Man Tåta and Biba Summer to Savor!
Learn More
Featured Stories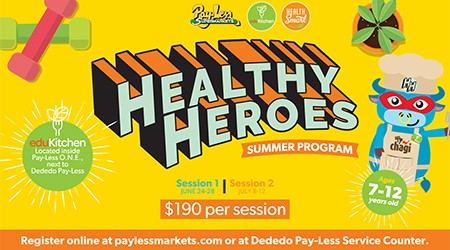 Healthy Heroes Kids Summer Program!
Our Mission is to inspire and empower kids with the knowledge to make healthy and sustainable choices. We aim to nourish their potential in a fun interactive, and creative atmosphere. Kids' imaginations will soar with a special daily them curriculum. Each day will be filled with interactive sessions led by guest speakers who are experts in their fields.
More details
Chagi | Garlic Butter Shrimp
Community Events
Jul 08 - Jul 12

Healthy Heroes Summer Kids Program - Session 2

Location: Pay-Less eduKitchen

Time: 8:00AM-5:00PM

Fee: $190.00

Our mission is to inspire and empower kids with the knowledge to make healthy choices paired with culinary skills and techniques. We invite all kids ages 7-12 for food, health and "green" adventures! ($190 per child. Liability form required to complete registration.)

July 26

Pay-Less eduKitchen: "Back to School Meals"

Location: Pay-Less eduKitchen

Time: 6:00PM-7:30PM

Slots Available: 13